Our tour will guide you along a few beautiful fortresses in Utrecht. The city of Utrecht does have more to offer than just the beautiful city center which is mostly visited by the tourist. We want to show a different side of Utrecht and enrich you with a new perspective on the city we all study in. In this tour you will discover more the edges of the city by bike and learn more about the history of the city. The tour is best done by bicycle. The tour starts at the Zuylen Caste (Slot Zuylen) in the northern part of the city. The tour will guide you past Fort Ruigenhoek, Fort Blauwkapel, Fort Voordorp, Fort the Bilt and Fort Rhijnauwen to the more southern part of the city and ends at Fort Vechten. In the picture below you can see what the tour will look like. The estimated duration of the tour from Fort Ruigenhoek to Fort Vechten is around 1,5 hours.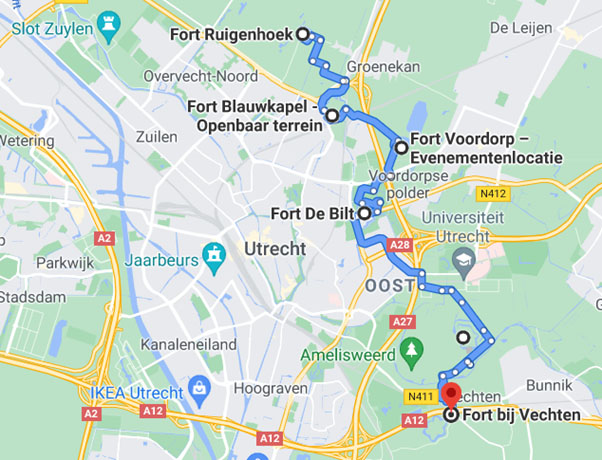 In case you are not in the possession of a bicycle in Utrecht we advise you to rent an OV-fiets at the central station of Utrecht. It takes around 20 minutes to cycle from the central station to fort Ruigenhoek and around another 20 minutes to cycle from Fort Vechten back to the central station. This makes the tour a bit longer but is our recommendation if you do not have a bike yourself.  
Click on this link to download the file of the Utrecht Fort Tour.
To see what other people thought of this tour, click on this link.