Sustainable canal tour through Utrecht 
A sustainable tour which you can make as adventurous and sportive as you like! 
Enjoy and experience the beautiful canals in Utrecht from the water and you will be treated to an entirely different view. This tour will guide you to many sustainable spots where you can dock. You can choose to follow this route with a sustainable boat of Greenjoy or set out an exploratory expedition by canoe, pedal boat or a rowing boat.  
If you don't feel like renting a boat or being adventurous, you can also enjoy the whole tour by walking. You can visit every spot, even if you aren't by boat. In this case, the tour will start at any spot along the map. From your starting point, you can follow the route and walk the whole tour. This tour can give you a sustainable afternoon, by foot or by boat. 
The tour follows the Oudegracht and the Singel. The Oudegracht is around round two kilometres long and is the most famous canal in Utrecht. With their many dock cellars, Utrecht's canals are very different from Amsterdam's. In the second half of the twelfth century, Utrecht's inhabitants decided to dig tunnels from the dock to the canal-side houses. This resulted in the double docks typical of the city. These days, you will find countless pleasant restaurants and cafés with a water-side terrace in these dock cellars.  
After 51 years, a full round can also be sailed over the six-kilometre-long canal 'The Singel'. In the 1970s, the canal was partly filled in for the construction of a stretch of motorway right through the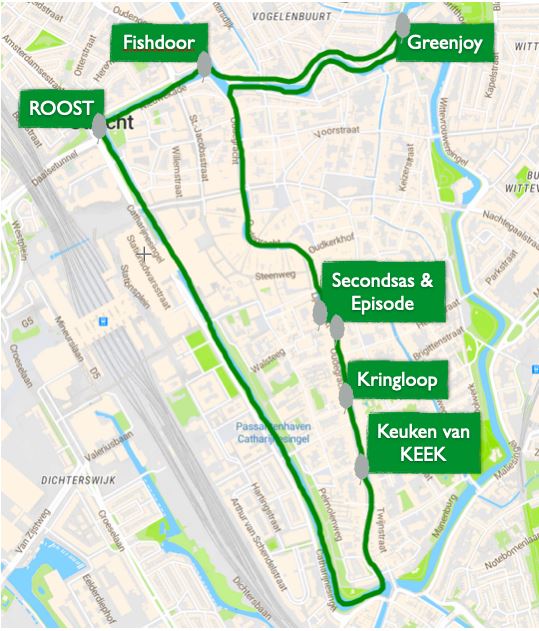 city. Utrecht has corrected this mistake in 2020 and now it is time to enjoy this beautiful canal.  
This tour will guide you to sustainable spots next to the canal and the Singel. The tour starts at Greenjoy next
 to 'Griftpark'. Here you can rent a 100% green electric boat which doesn't make any noise. The tour includes perfect places for a drink or a bite, but also many sustainable shops where you can buy local and / or secondhand things. After you have jumped in your boat, follow the Singel until you reach the Oudegracht. Take a turn into the city center here to experience Utrecht's historical canals and buildings. About half way, you may decide to take a look at three great second hand clothing and furniture stores, Secondsas, Episode and the Kringloop shops. If you feel exhausted after all that sustainable shopping, the next stop, KEEK, is for you. They offer a wide variety of organic treats and beverages, all locally sourced. Don't forget to check out their little urban garden right next to the Gracht as well! When you reach the end of the Oudegracht at Ledig Erf, take a turn to the right and follow the Catharijnesingel. As you know by now, this canal actually used to be covered by a highway for some time, but has now been restored to a beautiful waterway, alongside which people can relax and enjoy a bit of nature in a bustling urban centre. Do you feel hungry yet from all these impressions? At ROOST you can enjoy vegan food from the 'braai' which is a South-African barbeque. Here you can sit and relax till sunset. After, you can see the only 'fishdoor' in the world. If you like you can go to the website and see if there are fish swimming. If you see fish, press on the 'fishdoorbell' and the lock keeper is alerted and can open the lock. This way you help fish through the canal. 
There are sustainable spots everywhere if you are curious enough to discover them! Visting a city centre does not always need to be an elaborate shopping spree. Instead, take in the local atmosphere and enjoy all the secret sustainable treasures spread around the neighbourhood.  
Enjoy this wonderful tour and threat yourself with all the sustainable stuff! 
Click on this link to see what other people thought of this tour!