Click here for the reviews!
A city of liberalism and freedom in space-time
Amsterdam would have many factors for its popularity, but the main reason would be the freedom and liberalism of the city. Would it not be fun to see how liberal and free Amsterdam is and how that developed over time? This big concept of freedom has a different meaning dependent on who is asked what it is. So how do different buildings show freedom or the lack of it through history? How can Amsterdam explain, just like a text, what freedom really is throughout time and space? To answer these questions, a tour has been made.    
The idea of the tour is to show how buildings contain a historical context that can be read as a text. Buildings have been used by different groups in a different way to strengthen identity and guarantee their rights. So these locations show how freedom is just a big word to express different experiences and ideas of people of what a live free from oppression can mean. We even show locations that emphasize the oppression of groups like homosexuals and people of colour. By this we show that in times of freedom it is important to keep memories alive of times when groups did not have the rights to live their lives independently and how we can preserve that freedom.   
We have made several means to give you practical examples and ways of processing the information. First of all, we have a tour. In this way, you get an image of a historical context. We admit that this history is more nuanced than we are, but we try to help you link several cases together to make up your mind on the issue of freedom. Apart from the visual information of the buildings here and now and the memories in stone, we also give you an audio tour which gives you the context you need. Second we give you a timeline. During the tour, we tell you to make photo's of all attractions. You will organize these photo's and make a timeline.   
The following locations are chosen because they have references to different centuries, different themes like war, prosecution of faith, prostitution as a taboo and colonialism. They also show that the same ground or buildings can support different identities over time.   
Practicalities
Length of the tour:~7.2 km   
Estimated time walking (without time spending at the locations): 1.5 hours  
For cycling this estimation can be different.  
Estimated time cycling (without time spending at the locations or any stops of any kind and an average cycling speed of 18km/h): 24 minutes. 
To Do before leaving home 
Make sure your phone's are charged and you have a working phone during the day.

 

Take the OV chip card with you in case you want to travel back by tram at the end of the day. 

 

Print this document so you always have a map, the links and the route back. 

 

In case you want the written out text of the audio tour, download the other document in the teams map of group 1. 

 
Map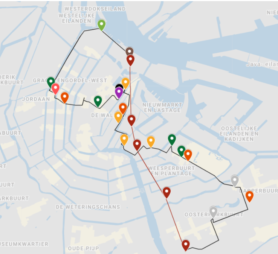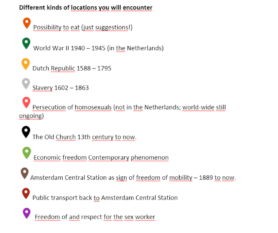 Click here for the online version of the map.
Travelling back home 
At the end of the tour you can travel back to Amsterdam Central Station or directly home any way you want. 

 

However, we assume most people came in via the Central Station and will walk the tour. 

 
For the people that do not want to walk back, do not have another way of transportation and for any reason can not use 

https://9292.nl/

 , we give a way of getting back by tram. 

 

The times may be different but the route will probably be the same.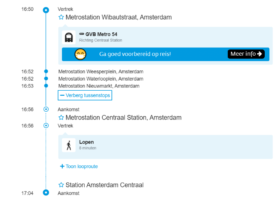 Stop-by-stop guide, including audio
Do you prefer to read instead of listen? Click here: Audio tour – written version
Stop 1: Old Church/Oude Kerk
The oldest building in the city of Amsterdam is the Old Church. It was build around 1306 as a Catholic Church.  
During the colonial period which started in 1528 and lasted until 1873, the church got expanded and embellished with goods originating from the colonies. 
Stop 2: Bushuis/Oost-Indisch huis 
The Bushuis and Oost-Indische huis originate close to the start of the colonial period. The Bushuis was built in 1550 and the Oost-Indische Huis around 1604. They were used as a gun storage and meeting place of the central board of directors of the VOC respectively. They therefor played an important role in the colonial activities that took place during this period. The colonial administration was seated here until 1808. 
Stop 3: Ons' Lieve Heer op Solder 
In 1578 the Protestant Church took over during the Alteration of Amsterdam. From that moment the Catholics were not allowed to practice their faith in public. The Old Church became a Protestant church and the Catholics moved to churches within people their homes, like in Ons' Lieve Heer op Solder, since they did have the freedom to practice their faith at home.  
Stop 4: Old Church Square 
The Old Church Square was formed in 1655 when the graveyard was relocated. The statues however are recent and only place here in 1998 and 2007.  
Stop 5: Spinoza 
Spinoza lived from 1632-1677. From an early age he was inspired by freethinkers like Descartes who lived around the same time. In 1656 he was banned from the Jewish community he grew up in, possibly because of his ideas and the pressure the Jewish community was feeling from the Protestant administration, as they realised that there freedom was only guaranteed if they did not cause chaos. In one of his most famous works from 1670 he wrote that freedom of philosophers essential is for the peace within a state.  
Stop 6: Portuguese Synagogue 
From the second part of the seventh century the Protestant Community allowed the Jewish community, the one that banish Spinoza, to build. They build two synagogues under which the Portuguese Synagogue in 1675.
Stop 7: Tropen museum 
This is where we take a long leap in time. The Tropen museum was founded in 1864. During the time in between slavery was abolished in 1863. The freedom of religion had also slowly improved since 1798 when all religions got legal equivalence. The main goal of the Tropen Musuem is let people experience differences and similarities between many different cultures.  
Stop 8: Amsterdam Central station 
The Central Station of Amsterdam was build between 1881 and 1889. It provided people with more freedom of movement. It has grown over time to accommodate not people and continues to grown in the future.  
Stop 9: Anne Frankhuis 
This house is strongly connected to the Second World War and is not an example of freedom but the opposite. Anne Frank and many other people in Amsterdam and elsewhere were the furthers thing from free. 
Stop 10: Hollandse Schouwburg: 
Before the war a place of joy and enjoyment. After the war a place filled with sadness and hurtful reminders. During the second world war this building was used by Nazi-Germany to send people to camps on the border between Nazi-Germany.  
Stop 11: Monument on the Dam 
In remembrance of the war and its victims and all people that were robbed of their freedom this monument was place in 1956.  
Stop 12: Auschwitz monument 
This monument from 1977 is also for victims from the war. In this case specifically people that died at camp Auschwitz. The monument keep reminding us of what happened at that dark moment in time. 
Stop 13: Homo monument 
The first ideas for this monument was already suggested in 1961 but at that time focus was still mostly on the war. It was only in 1979 that the idea got support after Bob van Schijndel argued that other groups also got their memorials. In 1987 the statue was realized. 
Stop 14: Slavery monument 
139 years after be abolishment of slavery the first monument to remember this part of our history was build in 2002. Our colonial past is a topic many people would like to avoid since we pride ourselves for our free and tolerant culture. With this monument, all people who suffered in the time of the slavery get recognition for what was done to them. 
Stop 15: Chamber of Commerce 
The Chamber of Commerce is a fairly recent autonomous governing body that is supported by law from 2007. It helps entrepreneurs in trading and producing and grands in this way some form of economical freedom.